Public Safety-Long Term Evolution (PS-LTE)
Multi-mode handheld terminals provide a means to respond more quickly and efficiently in disaster situations by providing two different types of method of wireless communication (LTE+PMR, LTE+TETRA) with one terminal. It provides voice, video, and data services based on 3GPP standards that are essential requirements for devices.
Multi-mode handheld terminals we provide are supplied to general railways and fire stations and it are used stably.
The Interactive Design delivers an intuitive user interface and easy-to-operate keys. Through the customized and rich information home page, smart keys and programmable keys, one-hand operation is secured to meet quick operation requirement for first responders in emergencies.
PS-LTE Main Function
Broadband and Narrowband Converged
Multiple Security Assurances
Open APIs to Enrich Services and Applications
Crystal Clear Critical Voice
Quick Charging
Customized Network Priority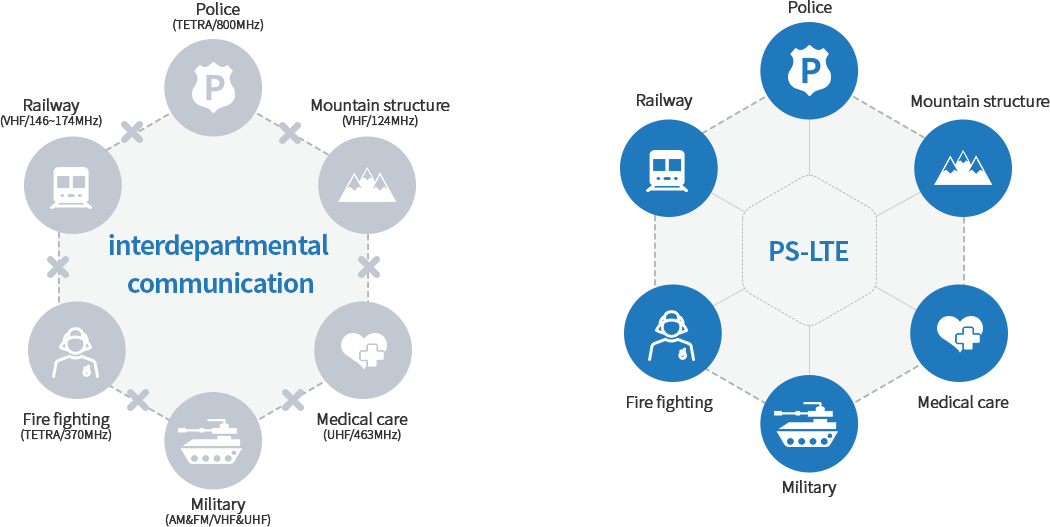 interdepartmental communication

Police (TETRA/800MHz)
Mountain structure (VHF/124MHz)
Medical care (UHF/463MHz)
Military (AM&FM/VHF&UHF)
Fire fighting (TETRA/370MHZ)
Railway (VHF/146-174MHz)
PS-LTE

Police
Mountain structure
Medical care
Military
Fire fighting
Railway
Case Study