Intelligent Transport System (ITS)
STraffic has developed several solutions aimed at improving traffic flow and personal mobility. These solutions collect and processes real-time traffic conditions into the traffic information center by installing CCTV, VDS, and WIS that can detect traffic information such as vehicle characteristics, traffic volume, and speed. We are creating a safe and comfortable smart city by providing integrated traffic information and linking information between systems such as TCS, ETCS, MLFF, and BIS in real-time and traffic information on urban areas. STraffic has established ITS in Seoul, Suwon, Incheon International Airport Expressway, private roads such as Guri-Pochen and Sangju-Yeongcheon in Korea. Additionally, STraffic is leading in creating integrated of ITS solutions, such as its ongoing project in Medellin, Colombia which will combine traffic information from four unique systems into a single, comprehensive system.
VDS:

Vehicle Detector System
WIS:

Weather Information System
BIS:

Bus Information System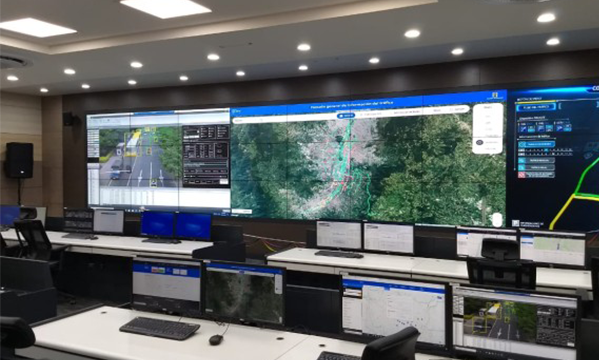 · Columbia Medelin ITS Center
Cooperative-ITS (C-ITS)
C-ITS is a traffic accident prevention system that is powered by seamless two-way V2V and V2I communication. Beyond providing transportation management measures through the collection and provision of traffic information by the existing Intelligent Transportation System (ITS), it is a next-generation transportation system that combines transportation infrastructure, vehicles, and ICT. It prevents accident by monitoring and checking for events, such as traffic conditions, sudden stops, and falling objects in real-time through V2I and V2V communication installed on the side of the road. STraffic is carrying out the C-ITS demonstration project in Seoul, which is planned to be serviced from 2021, based on a budget of the Ministry of Land, Infrastructure, and Transport and the Seoul Metropolitan Government. It will contribute to reducing traffic accidents significantly in Seoul.
V2V:

Vehicle to Vehicle
V2I:

Vehicle to Infrastructure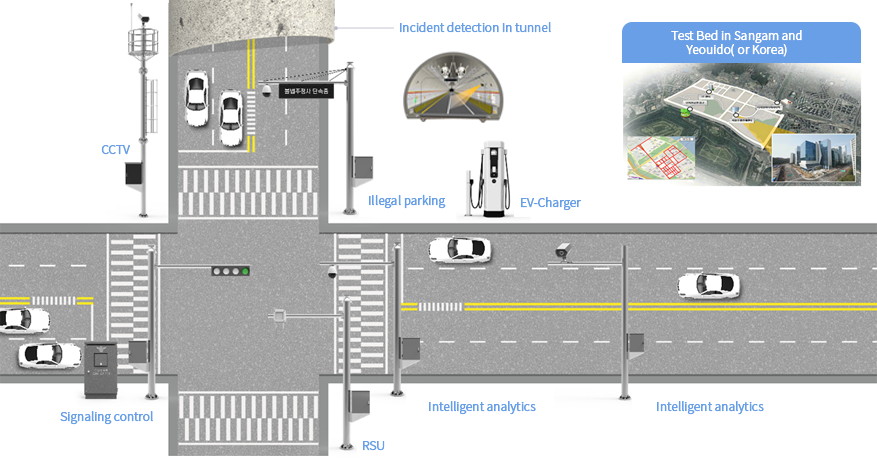 Case Study